Discover more from Human Repeller
People who wear clothes HATE this newsletter
Over 2,000 subscribers
Designer off Duty #4: Sintra Martins
We have been blessed by the patron saint of HR.
Catch the first three in this series on what brilliant designers really wear on a daily basis: here with Bailey Goldberg, here with Ella Emhoff, and here with Anamaria Morris!
The inimitable Sintra Martins, whose labor of love, Saint Sintra, presents some of the most poignant, erotic, and theatrical clothing for sale in 2023, is also an incredibly kind person and an even BETTER dresser (and she's really, really kind). I was lucky enough to get a peek behind the curtain at some of the fits Sintra actually wears on the daily, and they're PhD-worthy. Below, I try to break down what I like so much about Sintra's sartorial endeavors, and stick around for a shoppable guide to mastering the best lessons her style can teach us.
If you like these posts, please let me know by liking and commenting here or on HR's Instagram, subbing to the HR Substack (this) for as little as two bucks a month, one dollar per bonus post (subsidized subs available HERE) or for ZERO DOLLARS, share (tag me if on IG so I can see and thank you)! 
Thank you SO MUCH for your support, whatever you are able and willing to do to help is extremely valuable to me and I'm honored to be a small part of your life on the web.
Note: I may make a commission if you purchase items using some of the links below, which costs you nothing and might actually save you a few bucks in some cases, so thanks if you do, and please let me know what you copped!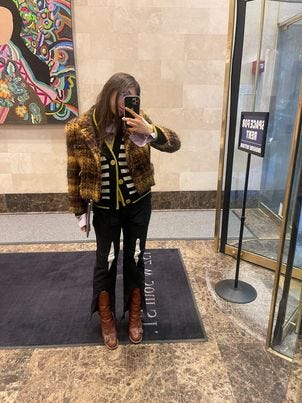 Left:
The thick, boxy tweed jacket with a cardigan that's a little longer than the jacket creates an insouciant "thrown on to go to studio" vibe, but the patterns and neon piping hold interest

The arc-cut hemlines and diamond knee detail of the pants grounds the low-key upper in an obviously intentional lower, making everything feel like it has an esoteric logic to it—you start to see congruence where there may or may not actually be

Any boot that went all the way up under the pant's hemline would have worked, as long as it was a lighter shade than the pants to show off the arcs
Right:
Another tweedy jacket, this one with a curvy, 2000s silhouette and what I believe to be Saint Sintra sleeves spilling out of the cuffs to play up the movement and drama as antidote for the potential stiff, dorky look of a Disney Channel star on the red carpet that this style of jacket can court

Pink to argue with the red and olive green to mediate! Chef's kiss
Both:
The Grandpa and Grandma-core of the bucket hat and long skirt are pushed into Cool Grandparent territory with neon yellow and blue. I especially love the yellow slides against navy socks on the right
Both:
Choosing either a very columnar (left) or voluminous (right) silhouette and keeping everything tame color-wise allows for the piling on of absolutely anything: a triangle scarf tied at the waist, a khaki cape (?), a jaunty cap, anything goes
One more for good measure:
I know it was just rolled up, but I'm inspired by the idea of a short-sleeve sweatshirt over a dress shirt with long, flared cuffs

The number of buttons and subtle flair at the hem of the shorts are important

I love dress shoes that look like they've been through something. Wearing them casually is so cool
In conclusion:
Sintra's style is like a clown on a tightrope, it exists in the tension between a sense of humor and dead seriousness/pragmatism. It makes me think of The Maries from Daisies, the general vibe of Santa Sangre, and Pynchon novels. Her attitude of presence and straightforward, earnest, but calm creativity would tie pretty much any mishmash of clothing together, but here are my main focal points:
Sleeves (long, flared, drapey, spilling, peeking out)

Button-downs under sweatshirts (maybe a short-sleeved sweatshirt?)

Flares of neon, red, and pink grounded in a sea of olive, khaki, and navy

Taking cues from the cool Grandpa and Grandma, the kinds that say "fuck" and also, still fuck

Dress shoes/slides + socks

Scarf around the waist in a triangle

Attention to hemlines and how pieces overlap

Tweed!

Awkward lengths of bottoms (RIGHT at the knee, high calf)

Minimal, practical accessories

Something preppy, but as if completely by accident—stole clothes from an Ivy League dorm's laundry room
And now, some outfits based on this master class in drip!
IDs:
IDs:
IDs:
IDs:
IDs:
Thank you so much for being here, and, as always, please stay alive until my next post!
<3 HR