Discover more from Human Repeller
People who wear clothes HATE this newsletter
Over 2,000 subscribers
Imperfectly Perfect: HR
HR on Things They Like, Ripping Off Other Newsletter's Formats, and more.
I have an unfortunately middling number of brain cells, not enough to produce works of genius (yet… I'm holding out hope…) and too many to devote my life to Indie Sleaze. This does not make me better or worse than anyone with a different count of neural pathways, but it does mean that I'm at the top of the swollen arc in a bell curve of "people whom that one newsletter will not feature." This is not at all a smear piece, in fact, I quite like some of the features they've put out! If one of the letter's creators and (unwitting) friend of HR Tyler happens to see this, I appreciate you for reading my blog and I promise to do more "menswear"-focused reportage real soon, though if you're not down with a skelt yet, I don't know if there's any hope for you…
To be honest, today I just woke up wanting to recommend nine (my lucky number, you know) things that are fashion-related or adjacent (we must adhere to theme on this blog! And we must use as many gratuitous parentheticals as humanly possible) and felt like paying homage to the newsletter that socially trademarked the format first instead of playing dumb and acting like I have never published work in Forever Mag or smoked American Spirit light blues out of a glass bowl in someone's SoHo penthouse (Note: that was a fluke. I thought my life would just Be Like That from then on. It wasn't).
All this to say: here are nine things I want to share with you. Thanks for being here, truly.
If you like these posts, please let me know by liking and commenting here or on HR's Instagram, subbing to the HR Substack (this) for as little as two bucks a month, one dollar per bonus post (subsidized subs available HERE) or for ZERO DOLLARS, share (tag me if on IG so I can see and thank you)! 
Thank you SO MUCH for your support, whatever you are able and willing to do to help is extremely valuable to me and I'm honored to be a small part of your life on the web.
Note: I might earn a commission if you purchase items using some of the links below, which costs you nothing and might actually save you a few bucks in some cases, so thanks if you do, and please let me know what you copped!
Argentine Swimsuits on Sale
Calomel is an Argentine brand that sells under- and swimwear that essentially dupe the prolific Nu Swim in design and quality, and sometimes even trump it in color selection. Right now, since Argentine summer just ended (fml), the brand is having a swimwear sale, and if you know anyone who'll be traveling between the US and Argentina soon, you might want to ask them to leave a little room in their luggage—on the dolar blue, the informal Argentine exchange rate (currently around 460 pesos to a US dollar), most one-pieces cost around $20, bikini bottoms under $10, and scrunchies in a rainbow that surpasses the array at Coming of Age hover around $2 each. Here's me showing off my guns in a Calomel suit. I just HAD to include it, you know, for your edification as a consumer.
Poignant Scenes on Clothes
The sweethearts at Tienda Lloron created a skirt/dress printed with images from one of the most agonizingly tender scenes in the film Happy Together (you know the one). This particular skess (?) is sold out, but I am pestering them (respectfully) to make a similar one for me. Besides pretty much any frame of any Wong Kar-wai film, other movies that would make great, tear-inducing prints on clothes include Hiroshima mon amour, Under the Volcano, and Paris, Texas. If anyone makes a skirt or perhaps some undies with any of the following screen caps (corresponding to order listed), LET ME KNOW:
Humans as Material
As I wrote in a recent feature for passerby magazine,
"[Artist Paul Thek's] relationship to bloody, visceral imagery was not intended to shock, but to detach and re-contextualize: "It delighted me that bodies could be used to decorate a room, like flowers" was Thek's reaction when he visited the Capuchin catacombs, which are decorated with decaying corpses. He picked up what he'd thought was a piece of paper — it was a human thigh. Thek said 'We accept our thing-ness intellectually, but the emotional acceptance of it can be a joy.'"
This "thing-ness" is made manifest in using human body parts (legally and safely obtained) in a fashion context. Your own or a pet's baby teeth as earrings (I did this with my wisdom teeth and promptly LOST THEM BOTH on a TINDER DATE, be careful out there), a friend's post-cut hair leftovers as a clip or a necklace—Marland Backus, in collaboration with Tomikonowig, is producing some of the craziest pieces I've seen and loved lately (below). They evoke traditions like Victorian hair lockets, but also from the all-too-common phenomenon of getting hair snagged and tangled in a piece of jewelry. I suppose you could cheat with fake hair, but the Walter Benjamin-sanctioned aura might not be the same…
Dressing Like a Cartoon Character
I have long advocated for this practice (specifically re: anime), so I'll spare you the spiel, but it honestly makes even the most staid party or work day feel special, as if you're channeling the character and can access their powers. Also, sometimes cartoon logic is just drippier than human logic—see above Peanuts fits for big-time inspiration.
On the subject of Peanuts, this is one of my favorite TikTok accounts. Dude is impeccably dressed, edits flawlessly, has great taste in everything, and is a thrifting mastermind. Here he is listening to Vince Guaraldi:
Searching Yoshiki Hishinuma on The RealReal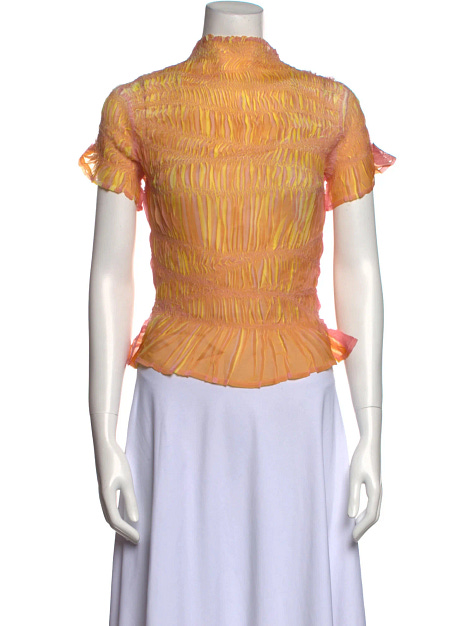 Fungal, visceral, and romantic, Yoshiki Hishinuma's work is a deep cut fashion gem that will elicit mad props from anyone who knows about it if you add a piece to your wardrobe. They are typically affordable on resale (around $200 or less), even super-archival pieces, but they're few and far between, so if you want some, go get it.
Paradise Kiss
Paradise Kiss is a manga series first published in 2000 (there was a later anime adaptation, it was okay, but here I'm reccing the manga) about a random girl who accidentally becomes the muse of an incredibly sexy gay? bi? pan? guy, whom she promptly falls for, getting absorbed into his fashion school world of punks with safety pins through their lips, ambiguously genderfucking geniuses, and glorious, glorious clothes, illustrated with sensuality and camp that only the aughties can boast. You miiight be able to read it for free here, but I am not liable for any viruses you catch in the name of manga.
Les Médusées
This is a video of the dance that inspired the Volk choreography and costuming from the 2018 adaptation of Suspiria, which I controversially loved (I love the original, as well). Not only is it a mesmerizing and terrifying evocation of the three gorgons with excellent musical accompaniment, but the dancers' fringey "coverings" inspired me to try this piece from Roomie, an Argentine shop with a collection of independent brands' experimental clothes (the below piece is from For the Sun Lovers). I can't figure out how to style it for winter, if you have any ideas, let me know, but in the summer I'm going full gorgon and wearing as little as possible under the tassels. Sorry for feet.
The Molehill
Viv is so sweet, stunning, and fashionable, and her blog, The Molehill, is an excellent investment if you're into the kind of stuff I'm into—she has everything from deep-cut recs to meditations of financial fashion blunders (I'm… too scared to read this one, honestly), all of which she writes about deftly and optimistically, with the cutest fit pics ever to sweeten the deal.
Moving Towards Repulsion
Franscis Balken is a genius. What is going on here? I don't know, I'm too afraid to ask, I want to close my eyes and forget, but instead I sit with the fear, invite it into my life, and suddenly: I need to wear it.
All my best regards, especially to the lads of Perfectly Imperfect. Thank you for inventing listicles, but for cool people.
<3 HR